​Rory Kelly, GBP Student

For a recent activity about women in the antebellum era, we were randomly put into small groups of three, thanks to Mr. O's handy-dandy sorting cards. For this task, we were given four sources to read, analyze and summarize into a brochure. Those sources were "Advice To Young Ladies"

by Timothy Shay Arthur, "Ain't I a Woman"

by Sojourner Truth, "Women In The Nineteenth Century"

by Margaret Fuller and, the group's favorite, Maria W. Stewart's speech to the "African American Female Intelligence Society". All the sources provided a different point of view about the perceptions of equality, or lack thereof, of the sexes in this time period.


Each group started off by reading the speech given by Stewart and the piece written by Truth

.

Then, as a group, we had to perform multiple tasks to understand the sources, while at the same time pulling out quotes for the brochure. Once this difficult part of the process was completed, we had to choose the strongest reader from the group to read Fuller's "Women In The Nineteenth Century"

.

While the strongest reader was chipping away at Fuller's text, the other group members didn't get off so easy. They had to read Arthur's "Advice To Young Ladies". We then had to come back and discuss what we took from those sources and create a list of possible quotes and information we could use for the brochure. Now you have heard me say the word "brochure" a few times while reading this blog. Yes, we did have to create a brochure about the Women in the Antebellum Era and you know what? It is not as easy as it seems! The brochure was double side allowing for five places to express your ideas about the readings. I felt that this was a very collaborative process as we used many different viewpoints and ideas from the group that went into the decision process creating the brochure. In doing so, we learned a great deal about women in the Antebellum Era.


For me, this lesson was an eye opener, especially Arthur's account of "Advice To Young Ladies". One quote from this source that stood out to me was, "Keeping this in view, it may readily be seen, that what makes a man a man, and woman a woman, is not the body, but the mind … mind of man must be different from mind of woman". This stood out to me because this text reinforced that men and women were basically equal; however, their minds have different approaches on problem solving. Men in this time thought they were smarter than women because their approach to a problem took a different path and men didn't want to listen to a woman's point of view. While gender is still an important issue today, Arthur's limited views help show how things have changed today. For example, Hillary Clinton may be the next President of the United States.
Powered by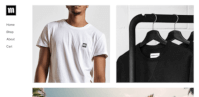 Create your own unique website with customizable templates.