LEARNING GOALS:
Textual analysis
Analysis (Textual and Mathematical)
This discipline-based skill has to do with analyzing and interpreting fiction and non-fiction texts, a core practice in English / Language Arts. This learning goal will direct us to look at the ideas, diction, and overall content present in a text and how they each contribute to a central purpose in the writing. The following rubric gives the best sense of the expectations for achieving proficiency in this learning goal.

RubricGlossary of Literary TermsGuide to Theme
Powered by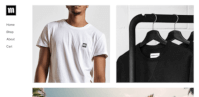 Create your own unique website with customizable templates.