GBP students work in groups, hands tied together, trying to put together puzzles. (Photos by Ms. Tincher)

Tom DeSouza, GBP Student

In the Greater Boston Project, one of the goals of the class is being able to work well with new people. However, in order to work well with someone new, you have to know how they work.

One of the recent ways we revealed our work style in GBP was with a collaboration activity that involved string and puzzles. Each group was given pieces of string to tie to each other's wrists and a puzzle to complete. The groups were competing with one another to complete the puzzle the fastest; however, talking wasn't allowed, arguably the most important factor in order to collaborate easily with group mates.

So, how were the groups able to complete or even start the puzzle without talking? Some groups started with laying the pieces out and finding and separating the pieces that had edges, while other groups would work together silently to find where pieces fit. The hardest challenge was trying not to talk when the teachers were roaming around the classroom. Some people communicated by sign language, or trying to get the attention of a group mate by snapping fingers or pulling on the the string.

Another major complication was the string. We couldn't pick up pieces without feeling the tug of the string as another student went in the opposite direction. People had to work together by coming up with a strategy. One group used the strategy of each person only using their right hand to pick up the pieces, while another group never took this approach and simply struggled.

But through all the pain of group members pulling each other's strings and having to deal with back pains from bending and looking down at the puzzle, what was the take away from the activity? The purpose of this collaboration activity was to demonstrate how important communicating with group members is in order to create a great project. In my group, the process of completing the puzzle was very slow but once we were allowed to talk after a certain period of time in silence, we were able to complete the puzzle much quicker. In order to work effectively with one or more group members, communication is key.
Powered by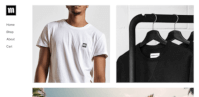 Create your own unique website with customizable templates.