Adam Starr Coggeshall, GBP Instructor


​At first glance, you might find the Seal of the Massachusetts Bay Colony perplexing.

"These were English settlers, why is there a Native American featured front and center?"

Upon closer examination, you might it downright uncomfortable.

"'Come over and help us?' Wow, if that's not patronizing and ethnocentric, I don't know what is!"

Feeling queasy about this symbol of the Mass. Bay Colony is understandable, and asks us to further understand the context under which it was created; the purpose for its existence. That is exactly what we asked students of the Greater Boston Project to grapple with last week.

​This seal was the message members of the Mass. Bay Colony wished to convey to prospective settlers still in England. The image created was designed to appeal to those across the pond with an appetite for evangelizing, establishing a perception that the Massachusetts Bay Colony was a place to do "God's work."

The reality on the other side of the Atlantic, as our students found, was quite different. In a letter from one of the colonists home to England, evangelizing Native Americans took a back seat to survival. In the letter, which plead for his relatives in England to send provisions across the oceans, it certainly seemed as if it was not the Native Americans who needed help from the English, but the other way around!

This contrast between perception and reality is a foundational part of the GBP curriculum, and though I am teaching my students to explore this through lessons like the Massachussets Bay Seal, I am navigating perception and reality in my own way on a daily basis. I have taught at Needham High School for three years, but this is my first year teaching the Greater Boston Project, and I am slowly coming to understand the true nature of the course, having only seen it from the outside for its first two years.

The Greater Boston Project always had the air of "big" to me before I became involved with it. Three teachers, a giant room, two blocks per day, and a mass of students coupled with strong and important initiatives like one-to-one technology pilots and interdisciplinary learning goals. All of that is true about the course, by the way, but my perception was that the point of GBP was its grandeur; that is where I was wrong.

After seeing it in action and taking part in the classroom, I've found that for all of its size, GBP's greatest focus is on the small. The giant room in which we reside is rarely used as such, and the majority of the day is spent with students in small groups. We even go a step further in analyzing and assessing teamwork within these groups, paying close attention to who takes on what roles, and advising how better to relate to each individual within the group. These big initiatives like one-to-one device pilots and interdisciplinary learning turned out to be a way of making sure every student can engage with the course content on an individual level. Having three teachers has really meant extra eyes to review the details of the day.

This seems fitting. In a senior elective in which we could have taught anything we wanted on any scale, we chose to study a relatively small city on a relatively small timescale. Through focusing on the sometimes small details that make up this city and its history, we find important reminders, positive and negative, of where we came from and where we're going.
Powered by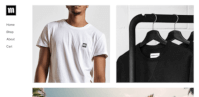 Create your own unique website with customizable templates.