GBP students discuss and roleplay issues from the Lowell Mills (Photos by Ms. Tincher).

Sophia Korostoff-Larsson, GBP Student

When was the last time you were able to make the words in your history textbook come alive? In today's school system, so much of what we do is read textbooks, take notes, and memorize the information simply to be regurgitated on the next test and then forgotten. Well, in the Greater Boston Project, we make sure to do the exact opposite. We find ways to learn and understand the history of the Greater Boston Area in different fun and engaging ways.

Recently, we welcomed historians from the Lowell Mills Museum into our classes. The class was split into two groups in which we were each assigned a role of a person who was actually involved in the Lowell Mills during the Antebellum Era. There were people of all different types of jobs: mill workers, mill owners, overseers, lawyers, journalists, small business owners, and boarding house keepers. We were asked to impersonate this individual and take on their emotions and opinions of the time. The historian then facilitated conversation amongst the different characters. Through this conversation, we saw the varying opinions of all the different people living during this time periods. We saw that some Lowell Mill girls complained of the long hours and poor working conditions, and went on strike against this lifestyle. At the same time, other mill girls were just glad to have a job to contribute money to their families, so they didn't actively do anything about the conditions. We saw that many of the mill owners and overseers didn't seem to care about the treatment of the workers, as they were paying them, and if the workers complained or went on strike, the owners could simply hire new immigrants to work for a smaller amount. However, there were a few members of society that supported of the mill workers. There were lawyers and journalists that wanted to expose the mills for their poor working conditions and poor treatment of the workers. Throughout the facilitated conversation, we were able to see all of the different views and how they contrasted with one another.
​

What was especially interesting about the roleplay was how invested our classmates got in their roles. Although each person did not necessarily agree with what their character believed, everyone embraced it and fought for what they "believed" in. This made for a very interesting and intense conversation. As people would immediately respond and contradict what others were saying, there was a growing sense of tension. At one point the historian even said, "Don't worry girls, he's just acting," as one of the boys acting as a mill owner said that the girls could live through the harsh conditions. Because of this aspect of our conversation, we were all able to completely comprehend the difficulties and conflicts that existed during this time period regarding working conditions. If we had simply been reading a textbook, we wouldn't have been able to get this complete sense of what life was like.
Powered by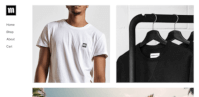 Create your own unique website with customizable templates.