Maria Galatis, GBP Student

Starting a new project with someone can always be a little difficult or overwhelming at first, especially if you don't know your group mates well. So what's better than starting off with a collaboration activity? That's exactly what we did in GBP to kick start a new project.

In this activity, two people were sitting back to back; one person was handed something to write with and on, and the other person was handed a drawing. In my group I was the one with the drawing. At first glance I thought "This is too easy." I began to explain what was in front of me to my partner, and what started out as an easy drawing became extremely complicated. I attempted to explain where lines began and ended but I couldn't fully get the correct wording. What I thought was the top was different to my partner. It was difficult to be exact on where each shape was placed and how to fill them in. I had to fight the urge to turn around and point to exactly where everything should be. However, when I was done explaining I thought my partner's drawing would be an almost perfect match to the original. When my partner revealed what she had drawn I was sincerely surprised. I realized that I forgot small important details, for example counting how many dots there were in the circle, or explaining exactly where and how the rectangles were drawn. Without the small details the drawing seemed completely different.

One of the great things about GBP is within a ten minute activity students were able to understand their and their group mates strengths and weaknesses. I thought this was a perfect way to start a new project. Within a few minutes you were able to know what your capabilities were and what you had to be cautious of, as well as your partner. Communicating the small details are crucial to projects and making sure each member is on the same page. This class is less about individual work, you have to be able to work well with others in different circumstances. Knowing more information about your partner made going into a new project feel much less overwhelming.

Right: GBP Students collaborate with their project partners to replicate a drawing, using nothing but their own communication skills.
Left: The original drawing given to one of the two partners in the Back-to-Back Collaboration Challenge.
Photos by Ms. Tincher.
Powered by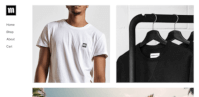 Create your own unique website with customizable templates.