A group of GBP students walk from the Massachussets Historical Society to the Boston Public Library on Bolyston Street (Left).
Students in GBP Periods 1-2 gather together in front of the Boston Public Library at the end of their day in the city (Right).
​(Photos by Ms. Tincher)

Brendan Lombardi, GBP Student

Obviously it was exciting to wake up and be going into the Boston for a day rather than being stuck in a classroom, but how much different could it be than a regular class? In the past, field trips have always been just a day to skip class. Whether it was going to the aquarium or the State House, there was just never really anything on these trips that directly affected my experience in a class. The trips we take in The Greater Boston Project, however, have a more significant meaning.

The whole point of GBP is to, obviously, learn all about the Greater Boston area, whether it be from what was going on 400 years ago to what may happen 5 years down the road. To do this we do things ranging from reading articles from the Boston Globe to examining documents written by John Winthrop. We bounce from analyzing or reviewing statistical data of the settlers coming over to the New World to talking about the damages of technology in our world today. Sometimes, however, it's hard for us as students to sort through all the clutter that these different topics and topic shifts cause us. A city so rich in history cannot be simply conveyed through documents or lectures; the sights, smells, sounds of the city are not something that can be taught in the classroom. Instead, we walk through the Boston Public Library and take in its amazing architecture, working on our Colonial Context Projects amidst the massive stacks in Bates Hall. Or we trek through the winding streets of Boston to the Massachusetts Historical Society, where we get to actually see the real documents we read in class. Even the experience of taking the train in and seeing how close we really are to such a breathtaking city helps make all the experiences and artifacts we see on a screen in class finally up close and tangible.

Our class is mostly classroom time at Needham High and accessing information through technology, but it is also so closely intertwined with a city just a few miles away. We need to see this relationship between what we read on our iPads or laptops in class to the city of Boston itself. Teaching a class about a city only miles away without actually visiting it would be senseless; Mr. Brooke, Mr.Odierna, and Ms. Tincher understand this and have carefully crafted a balance of class time and out of class time that will allow us to get the most out of the class as we possibly can. As we continue to move forward in class learning more and more information everyday, I look forward to our field trips this year that allow us as students to really immerse ourselves in the city of Boston.
Powered by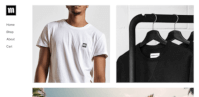 Create your own unique website with customizable templates.