Jeremy Stern, GBP StudentGroup work: arguably one of the most important aspects of The Greater Boston Project, if not the most important. Collaboration in groups allows for each member to contribute new and unique ideas while working toward a common goal, usually a final product or presentation. With each member contributing and holding up his/her end of the bargain, the idea is that everyone does something, and therefore, each member can utilize his/her strengths in a specific aspect. As previously mentioned, the overarching goals while collaborating in groups is, more often than not, a final project, whether it being a report, presentation, etc.
​

Nevertheless, collaboration is not solely about achieving a concrete final goal or product. It can be more abstract than that. Group work and collaboration is often aimed at less attainable reasoning such as just an assignment. Perhaps we all feel the need to belong to a group; something larger, something meaningful. It is often underestimated the warm and secure feeling that comes with belonging and associating with a group, regardless of the reason for getting involved with one. So, when people are put in groups for a project, the sense of belonging can cause students to be less worried and more productive. In GBP, group work is included in essentially every assignment or project, minus the essays. However, seen in field trips such as the Greater Boston Food Bank, we are able to utilize their experience of working with a group in a different context. The Food Bank was a great example of something that wasn't necessarily academically oriented, but it brought out the collaborative best in all of us, and everyone had a blast volunteering there.

Four awesome GBP students (including this post's author) work together to unload boxes at the Greater Boston Food Bank (Photo by Ms. T).

Whether in CAP or CED groups, or as a whole class in general, group work gives those of us involved: a) a sense of belonging to something, b) a shot at contributing our own unique ideas and skills to the group, and c) an excuse to procrastinate with other people in addition to ourselves. (Usually, it's okay if you're in a group, because you will all get eventually get penalized for not stepping up). Thus, groupmates push each other to hold up their end, as one person slacking can lead to a poor outcome overall.
​

In conclusion, collaboration is an amazing thing, especially when working on a project in school. When working in a group, it gives students a new way to be creative, and also gives them an opportunity to make the intended outcome better than it would be individually. Also, pretty much any modern day profession requires strong collaboration skills in the workplace. You will need to talk to and work with coworkers, clients, and bosses in order to get a task done. It is key in most jobs, so the collaboration aspect of GBP is preparing us extremely well for what's to come later on. In my opinion, collaboration is easy, useful, and important, so getting down the skills of how to do so can only help someone succeed.
Powered by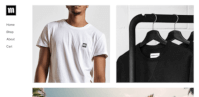 Create your own unique website with customizable templates.