Ken Brooke, GBP Instructor

Strolling around town looking for clues and exploring local businesses instead of being stuck in the classroom analyzing texts or doing math problems: what could be better? Well, the weather could have been a bit cooler today: the third straight 90 degree day in September did make our 3rd annual GBP Scavenger Hunt a bit sweatier than usual, but the students dressed for the occasion, especially the girls on the volleyball team who were head-to-toe in red, white, and blue for a big game tonight! But the weather was no match for our determined students, who geared up and grabbed some water (and iced coffee from Dunkin Donuts) and went on their way. The teachers, on the other hand, posted up in front of Fresco's with lemonade in hand; it was a tough job, but someone had to do it. Mr. O had his phone, aka the "Clue Hotline" ready to go, Ms. Tincher s cell was snapping pictures as students raced past, and I set to document our adventure for our second GBP blog post of the year.

The GBP Needham Scavenger Hunt asks groups of students to locate different businesses throughout town by deciphering clues about various places. Using an iPad, the groups have to take a group photo or a selfie at each stop to prove they went there and; to avoid working with other groups, students have to go to each stop in a specific order. The fastest and most accurate group win both the pride and bragging rights for the year, as well as some candy. Our stops included a wide range of local landmarks, from institutions like the First Church of Christ Scientist to government buildings like the Needham Public Library and from nationwide chains like CVS to locally owned stores like Polliwogs.

On the way our student learn interesting facts about their local economy and get some background information on places they often walk or drive by without a second thought. The activity serves two major goals for our practice:

First, we want students to get to know and think about their own town today before embarking on how we got here in history. It seems appropriate to begin the year with this kind of active exploration of the students' community as we get ready to visit the Needham Historical Society on several occasions to see what Needham society was like in the past. After all, it's important to know where you are before you know where you're going.

Second, we wanted to see how the groups, randomly chosen, would work together. Our debrief session at the beginning of our next class will reflect on how groups assigned roles, worked out problems and generally functioned. In GBP, as in life, we must work together and find ways to

collaborate effectively

, no matter the circumstance. Similar to our

collaborative Tinker Toy activity

using K'Nex pieces, activities like this continue to help us introduce an important part of our course. Having problems with the Scavenger Hunt is a low stakes way of delving into issues with group dynamics which will become more and more of a factor as the year goes on; collaborative skills will first be put to the test in an academic setting as we begin our Colonial Context project in the next weeks.

Meanwhile, the other section of our class will head out to do their scavenger hunt tomorrow, though perhaps in a more rainy climate, if the forecast holds true. Either way, we're confident they'll have just as much fun running around Needham. So, if you see groups of lost students around town, no need to tell them where the high school is, but you can help them with clues!

Interested in trying out your own Needham knowledge? Try these clues for size! (Answers at bottom):

a) This locally owned business opened when 5 women bought it from the previous owners. The current owners met from their involvement with the charity Graceful Stitches. The name of the story is what you might call the outcast of a family.

b) Many may not realize that this business is actually a chain that provides a "fast and direct" route to "understanding." In 1987 the Needham store was the second one to open but now there are over 130 nationwide. You might find Melissa and Doug here, or even some creative children.

c) This business started in 2000 and was originally an electronic guidebook. There is arguably no business in Needham that has done better in the last 15 years as it now employs nearly 3000 people across the world. They just built a brand new headquarters to move back into Needham from Newton. Their original location is hard to find, although many students eat "Pizza and Seafood" in at the cash only establishment that is in the same building.

d) This company has 24 locations, 16 of which are in Massachusetts. It originated in 1994 in Dartmouth when the owner of a clothing store in New Bedford decided to dabble in the food business. Three years later he closed the 97 year old clothing business and facilitated the boom of this new business that he still owns today.
Powered by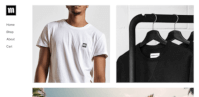 Create your own unique website with customizable templates.