Spencer Ress, GBP Student

As one of the oldest cities in the United States, Boston has many neighborhoods rooted in rich history. Each of its neighborhoods have possessed unique and distinctive characteristics, as people from all over the world have came to Boston to foster and cherish their respective cultures in it. Through this great history, Boston has sustained its vibrant neighborhoods, which is evidenced in the highly-diverse and energetic populations that make up each part of Boston. With all this in mind, it is no surprise that GBP has asked us to look more into these neighborhoods with our latest major assignment - the Neighborhood Project. In pairs and trios, we've been assigned the task of creating an infographic that depicts information about the history and development from the 1950s to today of a certain neighborhood in Boston. A list of neighborhoods in Boston was presented to each group to pick from and observe. My group happens to be a trio, including fellow classmates, Michael Dateo and Vinny Troung, and we ended up choosing Beacon Hill to investigate.


A couple days into the project, we have commenced preliminary research on our neighborhood, having already found many basic current statistics. Many of these happen to be demographic statistics, which relate to race, gender, income, housing, etc. Michael and Vinny have also found some statistics, but I have mostly been responsible for this part of the assignment. For this reason, Michael and Vinny have mostly conducted research to find stories/developments related to Beacon Hill in contemporary news as well as past news. I will also look to find more demographic statistics from the past. As far as the infographic, I have started the formulation of one in the program, known as Piktochart. A small amount of progress has been achieved so far, as the overall theme and fonts have been chosen for the infographic and some basic information has been put in. As seen in this project as well as many others we have done this year, is the unique opportunity to practice skills that will be needed for college and the application of the real working world.


​As three of many great skills we learn in GBP, this project allows us to practice visual communication, collaboration, and MSA skills. In regards to visual communication, this skill will be vital for things most likely such as presentations in college and business meetings beyond that. It is very important that pieces of visual communication such as power points, should be enticing and compelling to drive your main points you wish to convey in your dialogue. Along with visual communication, collaboration will also be important obviously. I would say this is the central and most important goal in GBP, as it will be a core practice in anything we do beyond high school. Whether in small or big groups, it will be critical to have the ability of communicating individual roles, decision making, feedback, evaluation of group progress or quality of product, and dynamics. If all of this can be achieved, only then will it be possible to successfully complete a variety of task in any subject. Lastly, this project will benefit our ability to model and do analysis of statistics in the future. As a core element in mathematics, perhaps any future job or internship I take on, may require me to break down statistical data to obtain key information and insight.
Powered by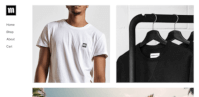 Create your own unique website with customizable templates.