Harry Smith, GBP Student
​Throughout the year I figured out that when you work in a group there is always going to be a clear leader who emerges, the one who will give out roles and lead the way. Coming from my experience in sports and school, I know what it means to be a good and bad leader. A bad leader is someone who is only concerned about themselves and tries to degrade people and doesn't give good feedback. A good leader is one who stays calm gives help when people need it and gives people good and constructive criticism. An example of constructive criticism is staying calm while helping a group member and not making them feel bad about needing help.
While working on the Neighborhood Project with my group, I was able to take away that it's essential to work together, plan and be productive. At first my group didn't do enough because we thought we had so much time to get the project done, but due dates were much closer than they seemed (as they usually are!). We eventually started to get going and different members of our group started stepping up. For instance, I was able to get the visual piece down while Max was able to finalize the research, and Will was able to make all of the citations. Even though we were able to get the project done, our procrastination cost us a better final product; had we done a better job at getting started on the right foot and working throughout the whole time, we would have been more successful.


Depending on who you are with, sometimes you need to step up and take charge of a group, even if you're not used to it. As hard as it can be to take charge, sometimes you need to and step outside of your comfort zone to enhance communication and professionalism in your group. Though I don't tend to choose the role, there have been times this year where I was forced into taking the leadership role. It can be very stressful to do so, as I sometimes feel like if I make one mistake as a leader it will bring down the whole group. But, I've learned that the best route is to have a leader, but also give clear roles/responsibilities and organize everyone so you can all get things done for the final product. This is something I plan to keep in mind in future projects.
Powered by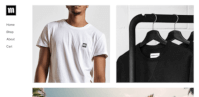 Create your own unique website with customizable templates.