Ellen Ingwerson, GBP Student

​Only 200 years ago was Needham a different community. It served as agricultural grounds and was set in a time where religion was still largely part of day-to-day life. But there were also similarities intertwined within local politics.

Last week, GBP went to the Needham Historical Society, part of which is comprised of a replica schoolhouse: chalkboard on one wall, fireplace in the middle, and "rotting" floorboards. You can imagine kids rushing into the fire-lit room from the cold weather outside. It seems cozy and the type of schooling I've grown up wishing I could have, but though it may be warm and small, school back then was far from cozy.

After our "first-hand" experience getting to see what it would be like going to school as a Puritan, school seemed dreadful at the time. The class would have been separated by gender and the obvious tension of Puritan severity. Teachers would carry yard sticks and use them to whip the bottoms of young school kids–being punished for exactly what they did, or couldn't do.

Everyone would have been told to write down, re-write, memorize, and recite ideas that were actually very similar to what my family tried to instill in me growing up: the ten commandments, chastity, clean language, and to respect the Lord. Some elements remain classic.

Our day at the Needham Historical Society there was, of course, rather different. Everyone got together in groups and rotated to different tables looking at various artifacts from the early 1700s. We discussed and analysed the various maps, letters, and creative writing pieces written or drawn by different people during the pre-revolutionary era.

A map at one table had houses labeled with people's first names. The houses were spread out which told us that this few-populated Needham was most likely a farm town. A creative writing assignment written by a young school girl showed us that as time went on there were other writing assignment besides the re-writing and memorizing of the commandments. A journal written by a minister living in Needham records the families he visited and their religious status confirming that a strong faith is vital to having a high status and being "pure." On the last table lay the recordings of multiple town meetings formatted the same way as today. Even the topics of discussion were the same: voting positions and town infrastructure or taxes.

All these documents show both similarities like the town meeting documents, and differences like the reverend's journal. It was pretty cool to have the opportunity to compare these two time periods not only from reading old documents, but also getting to look at old pictures, clothing, houses, and different products displayed around all the rooms at the Needham Historical Society. While looking around you notice toys or stores that are still around today–history we're unaware of right in front of us.

Though some traditions may have changed, there's noticeably a lot more that has been passed down than we may think or even realize.
Powered by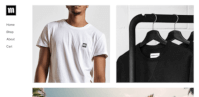 Create your own unique website with customizable templates.