GBP Students listen and take notes on a lecture given by National Parks consultant and BU professor Jim O'Connell. (Photo by Ms. Tincher)

Sydney Banker, GBP Student

As GBP students, we have been fortunate to experience many great lectures and presentations given from outside sources. On Tuesday, both GBP sections gathered together to listen to

Jim O'Connell's lecture on the development of the Greater Boston Area. The discussion covered a wide variety of topics such as; climate change, transportation, parks/recreation, shopping and housing. What made the lecture so engaging and interesting was its heavy focus on the development and influence that Needham had towards the advancement of Boston. Our knowledge about the filling in of the Back Bay was furthered through pictures and statistics regarding the actual transportation of the dirt from Needham to Boston. Another large theme Mr.O'Connell focused in on were the shifts that took place within the Greater Boston Community that ultimately altered the way Boston's society came to be as it is today.

Paradigm shifts are a heavy focus of the GBP class curriculum. Paradigm shifts refer to a revolution or transformation driven by a change within society. Over the course of the year, we have learned about and studied several paradigm shifts that have taken place over the course of Boston's history. Today, one of the shifts that we learned about was the Boston community's response to their needs/desires that allowed for them to bring about change within the city and surrounding neighborhoods. For example, with an increase in modes of transportation, primarily trains, a large spike in the development of suburbs took place. This is a great example of a paradigm shift because a direct cause and effect situation is taking place that eventually sparks a change within society.

After taking detailed and thorough notes on the presentation, we were asked to log into Google Classroom to respond to the question; "What do you see as a main takeaway from the lecture you heard today on the development of metropolitan Boston?" A variety of great responses poured in ranging from focus on economic impact, to development of suburbs, to the influence of transportation. Reading my classmates responses helped me to broaden my ideas and understandings of the lecture.

Once our speaker had concluded with his final thoughts we were given time to look over and organize our notes. This is a crucial skill that we have been able to practice and develop through GBP class lectures that will be extremely helpful going forward in larger college lectures. Although our GBP class number is most likely smaller than many of the lectures halls some of us will attend next year, today was a great preview of what is next to come.

​
Powered by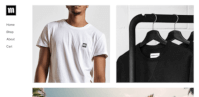 Create your own unique website with customizable templates.