Madison Gallello, GBP Student
​
Throughout our time as students, teachers have rarely told us about events that may not be mentioned in textbooks. They'll add an extra handout here or there, but generally history classes follow the textbook fairly religiously. We have all taken history throughout our years at the high school and we have always read the textbook and used that as a reference source and there had been no reason until now for us to think otherwise. An activity we did last week related to our reading of Ten Hills Farm really got all of us thinking about this more since part of the title of the book is "Forgotten History of Slavery in the North." We have been reading about all of the people and stories that were forgotten along the way of the tragedy of slavery.

In class we were asked to think about any part of history that we know of now that may have been "forgotten" in some way. We talked about this idea of history as "forgotten" as an event or even a group of people that was reported or viewed from one side or perspective; for these cases the truth of the tragedy or misfortune never came to the surface, often until years later. While we were in small groups we had to think about events or even research events or groups in history that were "forgotten" over time. As a class we compiled a list and worked to recognize events that have been forgotten through history.

Brainstorming about all these tragedies got me thinking about how many tragedies could be happening all over the world that no one knows about or pays attention to. There is now so much more news coverage on media that we have more exposure to news stories, but we don't always pay attention because it might not be concerning to us. All of these news stories could even be considered

desensitizing to us because there is always something drastic on the news, it just depends what we pay attention to, or care to watch or read

. It made me realize that we also can't always trust what we read. Some textbooks may have mentioned some events as minor details, but that doesn't mean that all the facts were present or that there isn't a whole other side to the story. Many textbooks seem to brush off real events like they were nothing, just a couple million people dead or a few thousand went missing, like the Armenian Genocide or the Haitian Revolution.

While we were finishing up the activity, Mr. Brooke brought up a good point about what we think will be forgotten years from now. With all the technology present today it is difficult to have anything go unnoticed. But, as I explained, news can be desensitizing because every extreme that has happened is reported out. Throughout the journey of reading

Ten Hills Farm

, we are forced to question whether or not we really see every event in history for what it is. This lesson helped us think about how that happens now with our own media.
Powered by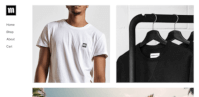 Create your own unique website with customizable templates.