Rachel Kingston, GBP Student
​

Sitting in a classroom for three hours can be extremely challenging for any high school student. At Needham High on A days the students of The Greater Boston Project, Periods 1-2 get to be together from 8am-11:20am-- that's a long time for a group of 17 and 18 year olds to be in one place! Besides our 20 minute homeroom break, we stay within the room except for occasional bathroom breaks. But the teachers in GBP are realistic about our ability to do almost 3 hours of work, and realize to capture our attention for those two periods they sometimes need to throw in something fun and different, not connected to our class curriculum.

A few weeks ago, the teachers set up a fun game to break up the long class. The class was split in half into 2 teams and both teams sat in a line facing each other. Students at the beginning of the line would wait for Ms.Tincher to flip cards from a deck and once they saw a red card they would pass the squeeze down the line waiting for the last member in line to press the button and beat the other team. All other teammates were required to hold each other's hands and given simple rules: no talking, no looking- just squeeze the person's hand next to you when you felt a squeeze on your other hand, like a chain reaction. The idea behind this game was to have everyone pay attention and be one part of a bigger chain; everyone had a role and each person had to perform the task as fast as possible so the team would be successful. As with any collaboration task, you had to rely on others to succeed.

These kinds of activities allow us to step away from the traditional classroom, and learn collaboration in a different way. The games allow us to relax and enjoy each other during those long blocks, and give the opportunity to bond as a class form new friendships, too. It really does achieve another form of collaboration by exploring different ways people can be creative. We can learn things about each other that usually we wouldn't know going through the basic school schedule.
Powered by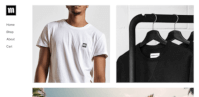 Create your own unique website with customizable templates.