Gwen Marcus, GBP Student


The biggest and most exciting aspect of GBP is the Community Action Project, otherwise known as the "CAP". After proposing our own topics and voting on those that we were interested in, we finally received our CAP groups just over a week ago. In that week alone, we've already made many discoveries about our project.


My CAP group, which is focusing on improving the graduation rates at Chelsea High School, quickly started our research, and were surprised to find demographical data that differed from our preconceived thoughts. For example, we originally thought that the cause of the low graduation rates was the quality of the schools, but our early research has already showed that, depending on race, graduation rates can range between 50 and 84.5%, which completely changes our ideas for solving our issue. Now, we have to take the research we've done and use it to change our plans in order to better achieve our CAP goal; we're focusing on finding more possible reasons for the graduation rates, rather than jumping in based on an original assumption. Based on this experience, I wouldn't be surprised if other groups find out that their problems are also caused by different things than they imagined. To me, this was a clear indication of how quickly we should dive into our CAP -- it hasn't even been two full weeks, but we already have so much more information to research and consider than many originally considered.
As the research goes on, the more exciting the CAP gets. Each person gets to put their strengths to use by doing different types of research (like math/statistics, social issues, background info, etc), and the result is a very well-compiled and in-depth set of information. In my group, I focus mostly on researching and analyzing statistics (like historic graduation rates, poverty rates, and other demographics about Chelsea), while the other members focus more on contacting people in Chelsea, finding out offerings of the school district, and compiling all the information together in an organized manner. It's also exciting in the sense that we are getting closer to solving a real world problem, rather than just researching for a typical school project. With CAPs, even though we're not even two weeks in, the research is already interesting and feels purposeful.
Powered by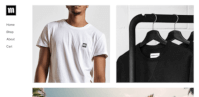 Create your own unique website with customizable templates.