The "Water Conservation" CAP group after their presentation last week. (Photo by Ms. Tincher)

Nick Davis, GBP Student
Walking into class Monday morning, just making it in time before the 8am bell rang, I saw some unfamiliar faces. Sitting among my classmates were parents, teachers, and other NHS faculty. And standing at the front of the room were some familiar faces, but in unfamiliar clothing. These GBP students dressed in classy suits and fancy dresses meant that today was the first big day of our CAP final presentations; the culmination of this six month long project. This was the time for us to "show off" all the work we have done for our Community Action Projects to our peers and other members of the community.
All of the different presentations we have done throughout the year, in front of our classmates, have prepared us for this one. A year's worth of work on presentation skills has led to this week. We are all ready. We started off the year awkward and timid during presentations, but our GBP teachers have shaped and strengthened our oral communication skills. They taught us how to organize our content, speak clearly and confidently, maintain eye contact, and actively participate as an audience member. But what I have learned the most, is how to execute a successful group presentation. Presenting in a group is very different from presenting alone, and in GBP this year, we have had the opportunity to experiment with this. In a group, you have to work both collaboratively and individually in order to produce a natural and cohesive group presentation.
I have always enjoyed public speaking, an opinion I doubt many other people share, but my skills have still improved so much this year. Public speaking is just like any other skill, the more you do it, the better you get. GBP has allowed for us all to develop this skill in a comfortable learning environment. I have watched each and every student progress so much in the public speaking aspect of this class. This skill, which is such an important one and is not focused on enough in school, will definitely give me a leg up next year in college. The average high school student has not had as much experience with presentations as we have had in GBP.
​

This next two-week period is the time for us to showcase the skills and work we have done both outside of the classroom, with our community action projects, and inside the classroom with our teachers and peers. We can finally share the amazing things that have been happening in the GBP classroom to the world.

​
Powered by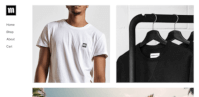 Create your own unique website with customizable templates.