GBP students debate the issue of slavery as it was contested in the 1700s, looking at four of the prevailing perspectives on the issue at the time. (Photo by Ms. Tincher)

Abby Kahn, GBP StudentThere is nothing like engaging in a good natured class debate. These sort of thrilling debates take place in almost every classroom in our school, except for maybe science or math classes, where I've come to learn over the years that teachers in said subjects do not enjoy debating the validity of math laws! But other that than, I think it is safe to assume that every student at Needham high school will graduate with at least one formal in class debate under their belt. In GBP alone, we have conducted a few debates thus far. We debated current issues such as the impending legality of Fireworks and changes to taxes on cigarettes, as well as historical ones like whether or not Puritans intended to push Native Americans out of New England.
Last Friday, we debated the institution of slavery in the 1700's. Each student was been assigned a certain perspective on the issue, a perspective that would have been commonly encountered and debated amongst citizens in the 1700's. This distinction that students were assigned commonly encountered perspectives in the 1700's is crucial. If we were advocating for our beliefs in the present day, it would be a very one sided debate, as the paradigms of race have drastically shifted. So in this historical context, the assigned perspectives included advocates for the continuation of slavery as it was, advocates for the gradual emancipation of all slaves, advocates for the return of all slaves to Africa, and advocates for the immediate manumission of all slaves.
As soon as positions were assigned, it was clear that some students were uncomfortable with arguing the historical position they were assigned, specifically those who had to argue that slavery should continue. Many students would now have to advocate for something that they know is totally wrong present day! However, as the preparation for the debate continued, the value of the lesson has become clearer. It is extremely easy to look back on our history of slavery and just say that it was an atrocity and should have ended sooner. However, as this fact is very clear for us today, it is more important for us as learners to understand that it was not so clear-cut back in the past. This debate encouraged students to understand all sides of the argument, and forced us to place ourselves in a position where we must fully understand and convey our assigned perspective, whether or not we believe in it now.
​

Furthermore, the skill and other prowesses utilized in this debate have useful implications in the work force. Constructing a sophisticated argument, researching opposing viewpoints and being able to understand alternative perspectives are just some examples of skills that might be useful to us down the road. After this debate, I think we will have enhanced our persuasive argumentation skills as well as better understand why the issue of slavery was so disputed, and why it didn't come to an end sooner.
Powered by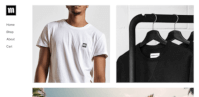 Create your own unique website with customizable templates.