Hannah Levy, GBP Student


Did the Puritans intend to push the Native Americans from New England?

This essential question was posed to GBP students last week, who were asked to draw upon prior class discussions and assignments to form a response and argue our assigned stance in an in-class debate, our first of many to come this year. Here's how we did it:

Step 1: Individual Brainstorming

First, we had to think about the assigned position– yes, the Puritans intended to push the Native Americans from New England, or no, it was not their intention. Regardless of whether or not we agreed with our assigned side, we found evidence to support the claim. We looked back through previous class assignments about Puritans and Native Americans to document evidence, such as the novel

Ten Hills Farm

, an excerpt from a book on settler and Native American relations, a primary source in the form of a letter from a Puritan, and an article on Native American technology.

Synthesizing past work to contribute to the debate allowed us to fully understand the material and interpret it with a potentially new perspective. We also practiced skills necessary for our upcoming Puritan Perspective Essay, such as drawing upon multiple sources to support a claim.

Step 2: Small Group Planning

Next, we got together with others who were on the same side of the argument and shared ideas. We collaborated on a shared document to frame the debate, including opening statements, evidence cited from previous classwork, homework, or sources provided in Google Classroom, and closing remarks. This work was split evenly among the group and we discussed aloud so everyone was on the same page.

In doing this, we practiced our ability to analyze texts and communicate in a group simultaneously, two major skill sets that we focus on regularly in GBP. Leadership roles emerged in the small groups, which is a natural part of collaboration; however, while some students lead the discussion while some took charge of note-taking, all members utilized their strengths to be active contributors.

Step 3: Debate!

New, smaller groups of three were then created to consist of only one member of each role: for, against, and the debate moderator. The moderator listened to each side's opening statements, where students addressed their respective claims. After considering each argument, the moderator posed questions to each side, challenging their points of view. This allowed the opposing sides to learn as much as they can about each perspective. Debaters then had a chance to articulate rebuttals. During the following open argument, which concluded the debate, opponents had a final chance to convince the moderator of their assigned standpoint so that a final decision could be made.

While being interrogated by the moderator, each debater was put in a difficult position. Debaters were forced to think on their feet to respond to questions in a manner that was not self-incriminating to their position, yet still answered the question. We had to be creative and convincing and often addressed a counterargument. Decision-makers then determined which opponent won the debate based on who presented a stronger case. After the final class vote with all of the moderators, they were asked to explain why one side was more persuasive, citing evidence from the debate.

GBP Students engage in the debate on whether or not the Puritans intended to push the Native Americans out of New England.
​(Photos by Ms. Tincher)

In this activity, we were introduced to the debate just moments before delving into it. Each day, The Greater Boston Project challenges students to think from multiple perspectives and learn in real-world scenarios such as this debate . Thinking "outside of the box" by interpreting traditional historical material in a variety of innovative ways is just one of the engaging aspects of GBP that set it apart from a traditional high school course.
Powered by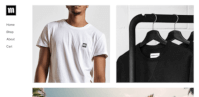 Create your own unique website with customizable templates.